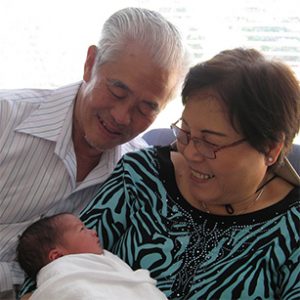 A DNA Grandparentage Test is performed to determine paternity for a child when the alleged father is not available or unwilling to be tested. Probability of paternity can be established through the testing of the paternal grandparents.
Specimen collections for this type of test require a non-invasive cheek swab collection from the child, the mother and at least one paternal grandparent (both grandparents are preferred).
Because of the rare instances for this type of DNA test, only a Legal Test is performed. Therefore, legal, government issued, photo identification is required for all participants. If a child does not have photo identification, a birth certificate, social security card or medical card with the child's name should be produced.
PRICING & TURNAROUND:
LEGAL DNA GRANDPARENTAGE TEST:  $430.00
Online ordering is not available for grandparentage testing at this time. Please call 877-99-DADDY or he***@da**********.com">email our office to order and schedule prenatal paternity testing.  
Turnaround Time: 7-10 Business Days*
*Turnaround time starts once the lab receives specimens from ALL parties in the case.